SensSwiss 2018
From SensUs Wiki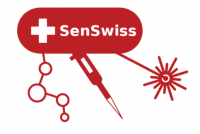 SensSwiss 2018
SenSwiss is a team competing in Sensus 2018, its university is the École Polytechnique Fédérale de Lausanne. For Sensus 2018, Team SensSwiss investigated the possibilities for creating a biosensor which is able to measure the concentration of Vancomycin. The full TRD can be found via this link
Method
Direct Fluorescence Polarization
Molecular Recognition
The fluorescently-labeled probe molecule is a peptide coupled to a fluorophore. A peptide precursor of the bacterial cell wall is used, L-Lys-D-Ala-D-Ala (KAA) moiety of Lipid II, coupled to a fluorophore: fluorescein isothuicyanate (FITC).
Physical Transduction
The fluorescent molecule is excited with plane-polarized light, causing the molecule to emit polarized light in the same plane of polarization. If the fluorescent probe is bound to Vancomycin, the complex is able to retain the polarization of light for longer than an unbound probe. The signal is detected through a polarizing filter. The degree of polarization detected is linked to the amount of target molecule in the sample.
Cartridge
Cartridge consists of 3 wells, made of PMMA, transparent and non autofluorescent. Those wells are heated and scanned.
Reader Instrument
The user interface of our device consists of a touch screen, communicating with the Arduino to coordinate different tasks, such as the heating and scanning steps required for the completion of an accurate vancomycin concentration measurement. ...
Prizes
Analytical Performance